Behind IntelliCUP™ is the innovative software that integrates the system.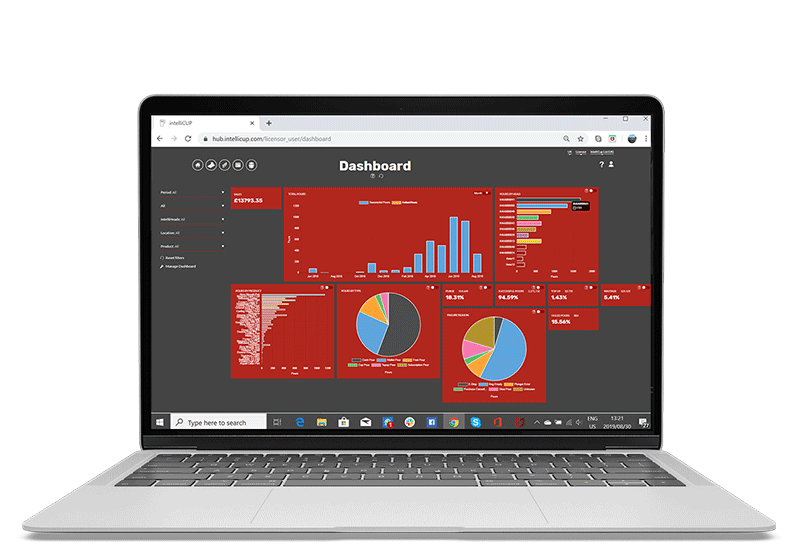 The IntelliHub web management portal allows Merchants and linked operators to set the beverage price, beverage pouring volume, product descriptor, wash cycle timing and age limit as required (if pouring an alcohol). It also provides updates and reports on system performance and account financial management, on site or remotely.
The IntelliHub is accessed by Merchants / operators according to the sequenced IntelliHeads in their operation. This access will also provide real time or post event reports on user statistics such as cups docked, success rate, volume through the system and funds in the account. Reports can be generated per IntelliHead or per user set or per event as required.
It sounds complex but has been designed to be very user friendly!
Upon downloading the IOS or Android App and registering the customer is provided a unique IntelliCUP account only accessible by them. Once they have registered a credit or debit card, they are then able to link a cup with their smartphones camera or NFC reader via NFC or QR code in the base of the cup and enjoy the system.
If a Merchant is using the automated cup deposit system, the App will automatically lodge a deposit against the customers account based on the deposit amount that the Merchant has set. Post the event, on returning the cup to the Merchant, the deposit will instantly be removed from the customer's account. If the Cup is not returned the customer will be charged on the next billing.
The IntelliAPP allows the customer to check their next billing balance, pour history, notification history, the cup deposit lodged or removed from their account, link or unlink cups from the account in an instant, activate their account for live pouring, change their IntelliHead on-screen greeting name and in future access unique vouchers and personal messaging.