One user cup
Once a user receives a clean cup at the start of an
event and retains control of that cup there is less
opportunity for germ transfer.
User controls cup handling – no bar staff are
required to handle the cup during multiple pours.
The handle keeps hands away from the rim of the
cup and reduces likelihood of contamination.
The cup sits on a thin elevated rim and the entire
base surface of the cup is never in contact with the
surface on which it is placed.
The cup injection valve is elevated off the base and
never touches a table or counter further avoiding
any potential contamination.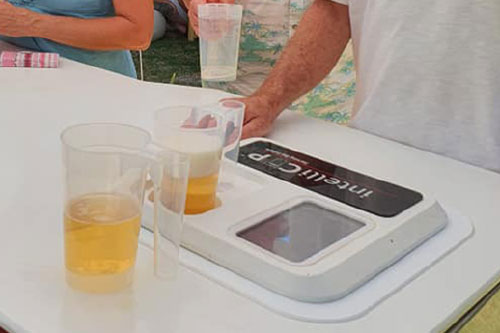 IntelliHead / Docking Station
The IntelliHead cup dock area is hygienically washed out
after every pour.
The automated rinse swirls cleaning liquid throughout the base of the cup dock area and also over the
injector nozzle.
Qualified hygiene tests have proven no cup to cup
germs transfer via the dispensing system.
Merieux Hygiene Test Conclusion:
"Results from the sampling events by Mérieux Nutrisciences hygiene consultant in January 2019 indicate that cleaning with a detergent-disinfectant would facilitate effective
cleaning of the IntelliCup unit. When the IntelliHead IHB rinsing feature was used in accordance with IntelliCup's recommended operating procedure and supplemented with an approved sterilising agent, no microbial counts were detected on swabs performed during sampling; which showed that cup-to-cup contamination via the IntelliHead injector was successfully eliminated."
Cashless
No handling of change
No passing of credit cards
There is no machine or button interaction required
It is not required to touch the Intellihead
at all – the only required contact is with the user's
own cup handle when placing the cup in the
docking station.
If multiple cups are poured and carried by an
individual the stacking handle ensures that the
rims of the IntelliCUPs or mugs do not touch –
further mitigating any cup to cup contamination
but still ensuring ease of use.
The find a cup function in the App will ensure that
a user can also find his own cup within a group.
(scan the QR code via the App and the linked cup
users top line details will be shown).